Kjell Bjarne wrote:
You are welcome to leave feedback in this thread.
Also reports and saves of your game. Even changed versions of the scenario.

Great scenario (in terms of size and workload).
I spend some hours with some modifications.
Added some cities in European and Chinese region to depict different population density, removed trees from south regions and put rock desert instead: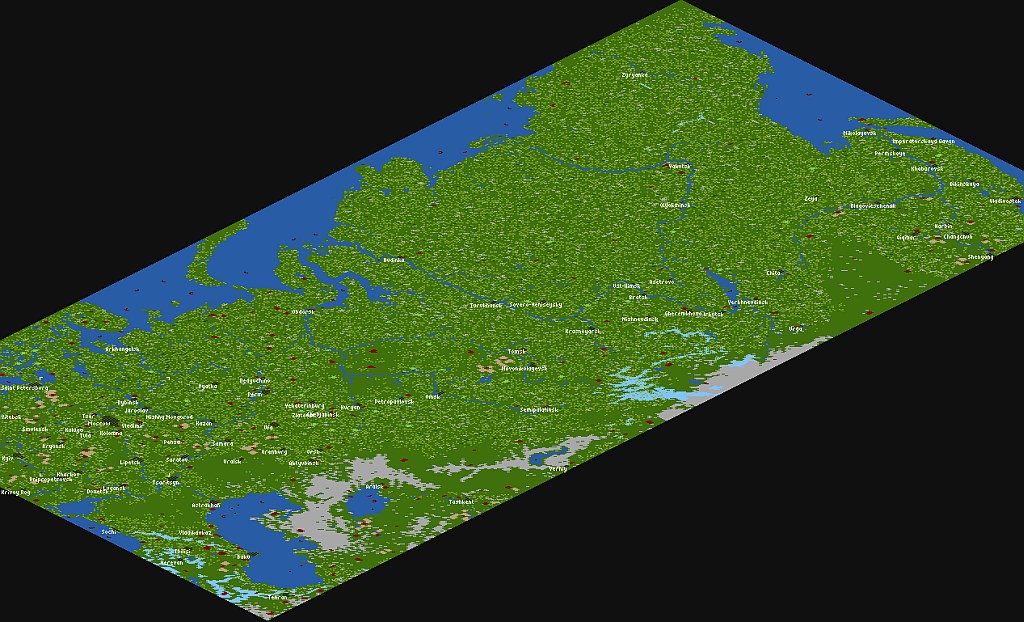 Some additional rivers and marshmallows were added, and I corrected surrounding of some rapids to provide easy lock building.
Kjell Bjarne wrote:
Construction of the Trans-Siberian Railway (without any industries)
The scenario contains no industries at all.
For everyone who wants to build his own version of the scenario. e.g. with
FIRS
instead of
ECS
.
I used this version for modification and, after clearing ECS industry (there are still some remains on "no industry" map mentioned above),
FIRS newgrf was added.
Unfortunately, warning about newgrf changing was true.
FIRS is slightly broken.
For example, there is no hotels and shops, therefore there is nothing to do with vodka - but if it is no real issue,
enjoy FIRS version:
http://149.156.194.203/~mczapkie/Train/ ... ssFIRS.scn
Game start is changed to 1825 - beginning of Nicholas I of Russia reign.
Game is rather challenging - there are only horse carriages and slow sail ships at the beginning,
and almost completely lack of heavy industry - I suggest to start with forestry and agricultural chains.
Other industries would appear randomly in game
(in future, I have idea of game script, which would add industries with historical accuracy).
Because xUSSR set is still hollow especially before 1930, 2ccTrains are in use instead.
By the way, any assumptions about
viewtopic.php?f=32&t=61140
project revitalisation?
_________________
My experimental openTTD server: 149.156.194.203:3979 non-standard client, now testing: JGRPP
http://tiny.pl/ggnch
Projects:
Reproducible Map Generation patch
, NewGRFs: Manpower industries, PolTrams, Polroad, 600mm narrow gauge, preindustrial houses, wired, ECS industry extension,
V4 CEE train set
.
Addicted to freeciv longturn.