A scenario designed for trains. Cities are located on each side of a central cayon, that you will have to cross to run long distance passenger lines. The primary industrial ressources are in the mountains and lakes at center. This scenario uses FIRS newgrf for a more complex cycle.
The challenging part is to build the central tracks, that requires a good amount of cash. You will need to develop local passenger trafic or industry to get enough money to reach the industry ressources at center. These ressources will bring in enough cash for the long distance passenger and secondary industry tracks.
Once this done, the real fun begins with complex train routing problems.
Attachment: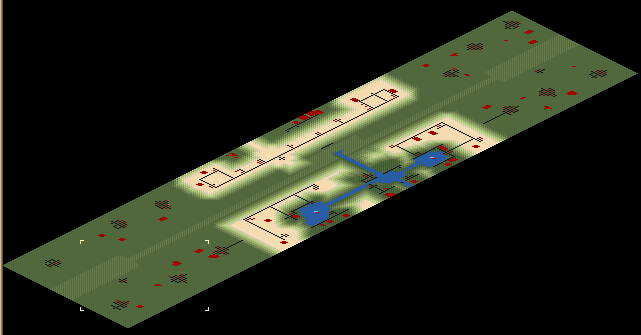 trainliner_minimap.png [ 11.78 KiB | Viewed 5105 times ]
Primary ressources are delivered by truck or ship to a central train hub, from where they are dispatched on the map. In the example below it is a roll-in roll-out station with waiting zones at both sides. It serves 54 trains fluently with only 8 slots. These is made possible by a constant delivery of ressources to the station, and a strict train routing system where the trains do not have much choices for changing directions.
Attachment:
trainliner_station.jpg [334.46 KiB]
Downloaded 5 times
You can make complex train tracks. I made two isolated networks: the two central tracks for fast passenger express are not connected to the industry tracks with slower and heavy trains:
Attachment:
trainliner_tracks.jpg [325.67 KiB]
Downloaded 5 times