Went train riding yesterday (April 28) catching a EMU from Cardiff to Hamilton, then a DMU Hamilton to High Street Station at Maitland.
My intentions was to do some train spotting and get photos of locos on fright and coal trains as there are a lot of private firms and a large range of different locos in use.
When I got off the train at High Street a train with a load of containers was going past .. to late to get photos. I walk 10 minutes to a road bridge where I wanted to be get more photos and before I got there a loaded coal train went through and I manage to get these pics. Shame I wasn't in time to get the locos as it was a triple header.
These coal wagons have the nickname "Batwings" ..
Which direction is the train going? Just look at the arrows on side of the wagons ... guess they put these arrows here so train crews knew where the front of the train is

If it wasn't for those arrows would you have known which direction was front and the rear?

These coal trains have at least 84 wagons.
Attachment: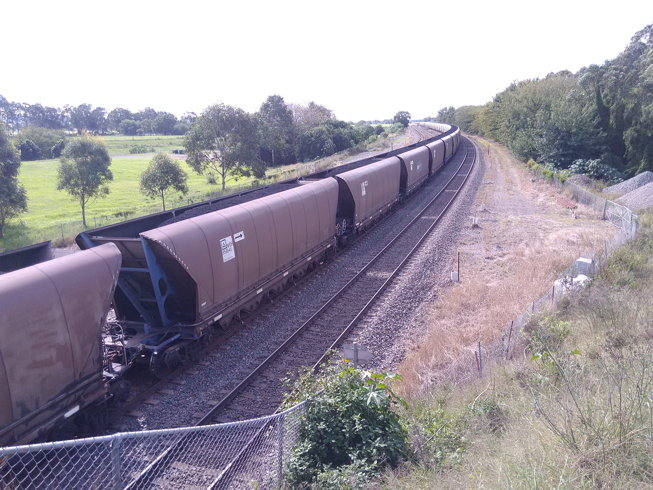 Coal Train_01.png [ 574.48 KiB | Viewed 727 times ]
The end of the train with a guard sitting on the back all red faced. (We nicknamed these guards "Blinky Bills" because their red faces keep blinking.
Attachment: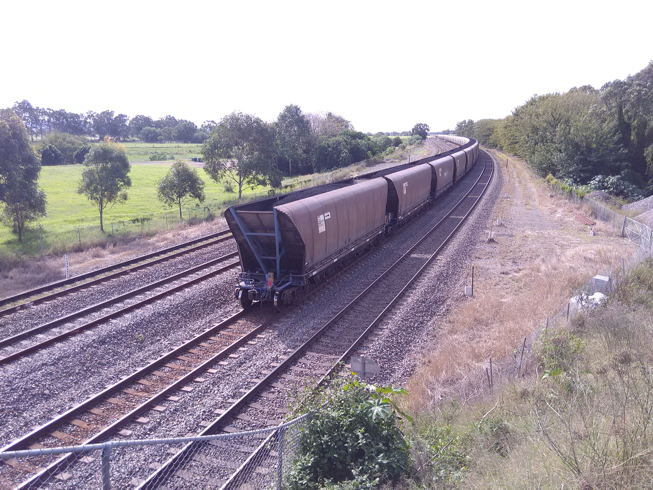 Coal Train_02.png [ 582.8 KiB | Viewed 727 times ]
After I took these photos I waited an hour and no more freight or coal trains came through which is unusual as they usually regular with several an hour.
So I got back on the train for journey home and watching for trains from the window and seen none. Found out why as closed the line after that loaded coal went through to carry out track maintenance work near Thornton .. looks like they was getting ready to put in a new set of points (switches).