Eleven entries over two months, plus some latecomers who only just made it, not bad! And a warm welcome to our first time entrants

Here are the entries for Feb-Mar 2017: "The Age of Steam", let's get voting!

Emperor Jake
Quote:
It is the late 1960s. The Glyn Island Railway desperately clings to steam power, using whatever equipment is still available to work the freight harbour. They even went so far as to build diesel-shaped steamers for the appearance of modernity on their heavy freight runs. Meanwhile on the mainline, a shiny diesel pulls into the station with the express.
ISA
Quote:
Union Pacific's special moving the Big Boy from southern California to Wyoming nears the end of its first day. Hundreds of railfans and additional hundreds of curious non-fans witnessed this unusual move between West Colton Yard and Yermo, the first leg of eight days of slow and steady rolling eastward.
leifbk
Quote:
From my spacious archive I dug up this, the Sørheim Steel work anno 1901. Plenty of steam here, thanks to Andy's gorgeous creations.
Mr Bruco
Quote:
Rutbridge Works decided to build a new railway line near the new car plant, given the growing interest in diesels.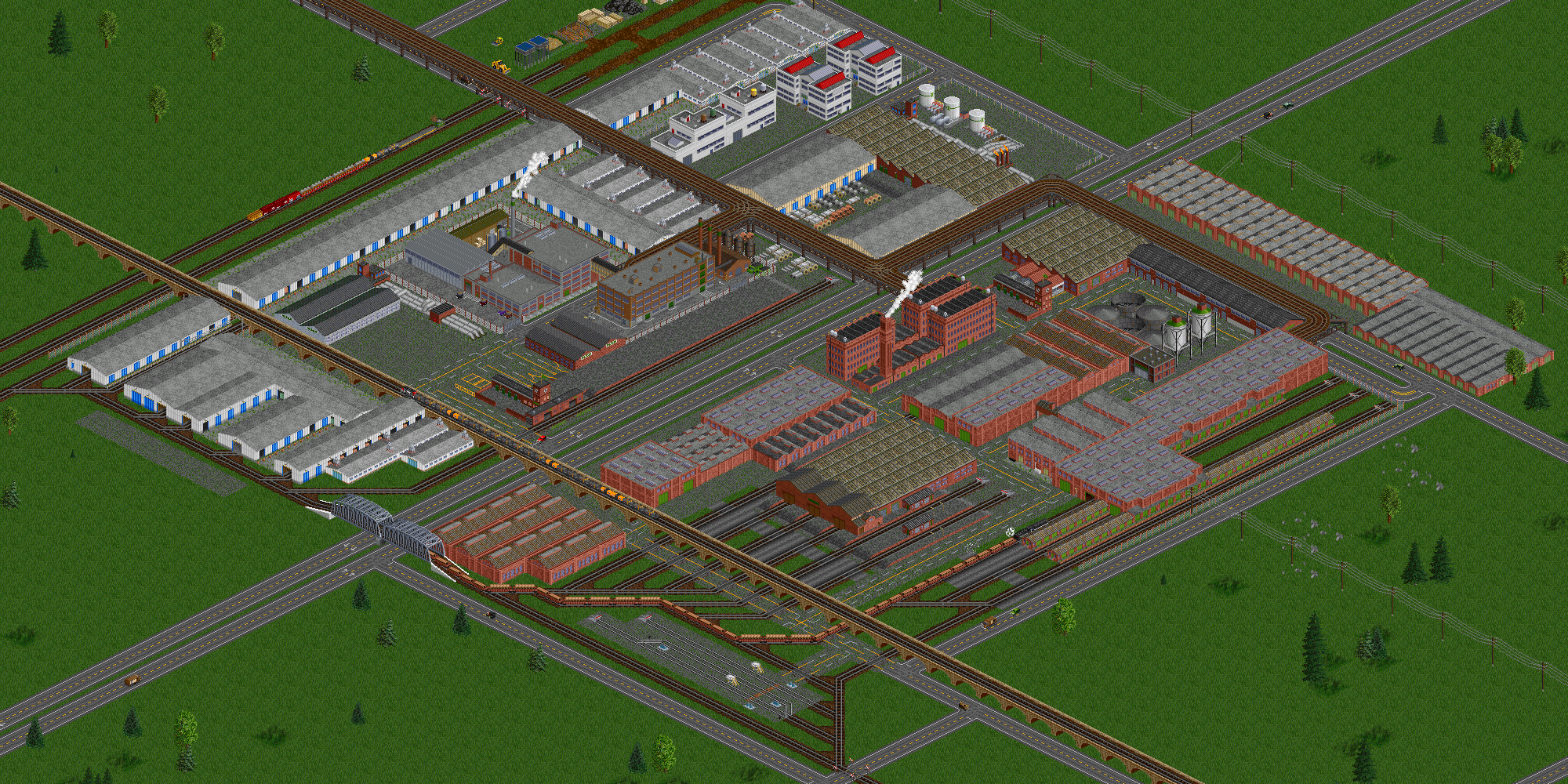 n8king
Quote:
Just steam.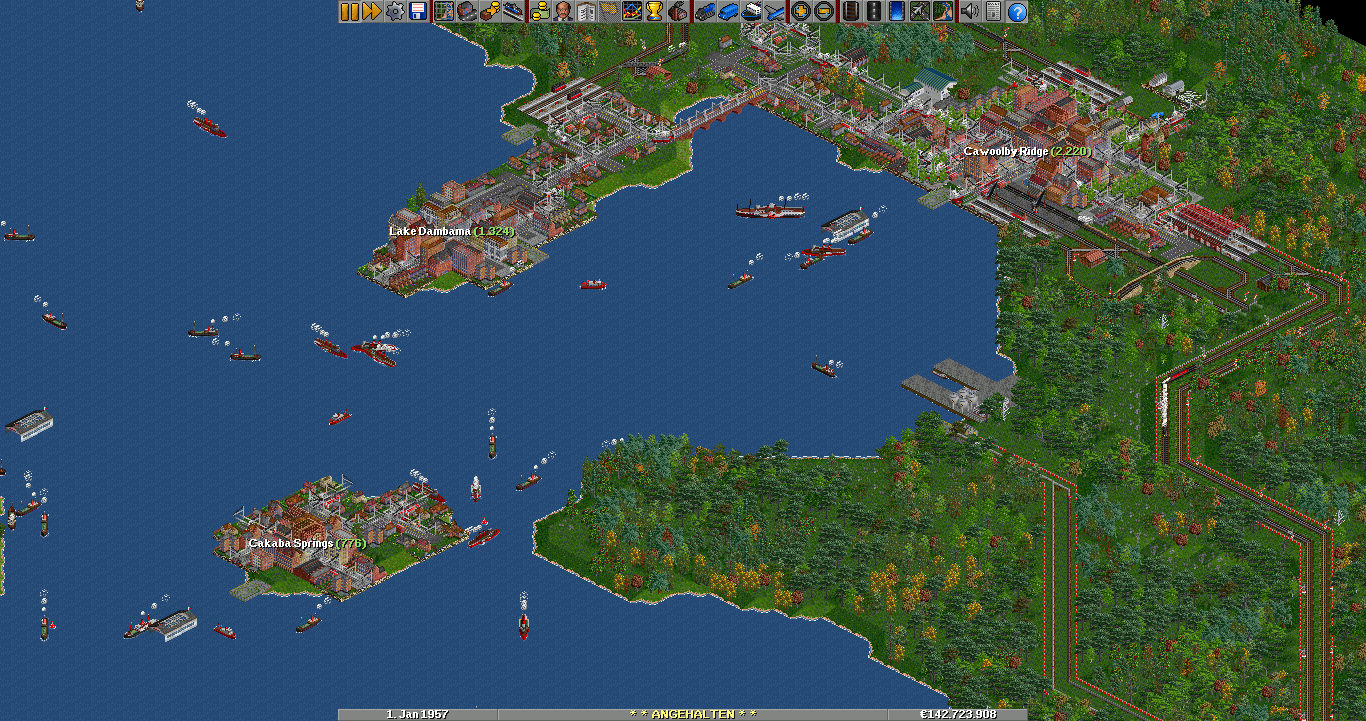 oberhümer
Quote:
Poland, the 1950s: Except for local freight duties, steam is still king. An express leaves Warsaw for Łódz, while a local to Lublin and a mixed to Brest prepare for departure.
Pontec
Quote:
The busy station in Glasgow May 1883
Pyoro
Quote:
Haven't been playing lately but might as well post something from an old save.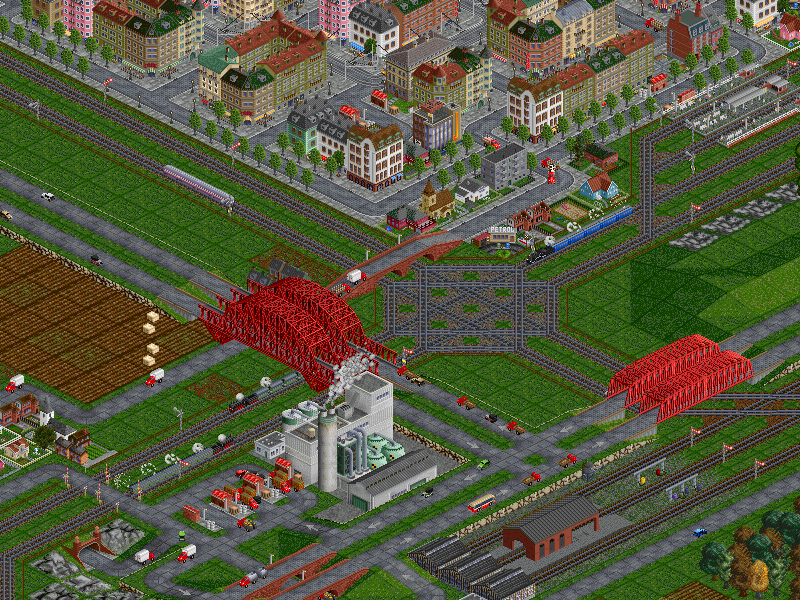 STD
Quote:
<no caption>
Supercheese
Quote:
A steamy day at the seaside town of Kellogg. Regular passenger services run to and from the train station, hauled by powerful 4-6-4 Hudson locomotives -- one of the newer, streamlined models is just pulling in.
A paddle steamer approaches the docks from a distance as fishing ships pull up alongside a freighter nearer the harbor. A mighty Short Empire seaplane has just landed, and its passengers will soon alight on the pier amidst the cries of circling seagulls.
To cap it all off, a majestic Hindenburg-class airship dominates the skies over the sea. Truly, there is no more glorious craft in all the earth, and its majesty may very well never be surpassed.
An earlier model of airship also flies over the town -- unable to compete with the Hindenburg-class at passenger duties, it has been converted for ferrying supplies to far-flung industries. Farmers and miners across the nation are treated to regular shipments of needed goods via airship.
One might theorize that surely this scene represents the pinnacle of technology, but the winds of change are yet blowing. The Electro-Motive Division has begun shipments of its E-unit locomotives for express passenger duties; dual pairs of these locomotives are already in express passenger service and might one day pass through Kellogg station...
wallyweb
Quote:
The Age of Steam - The End Of An Era!