Here is a new scenario, the idea for which accidentally arose

.
This scenario is called "
Megapolis Samara (Russia)
"

. Map size 128x128. The temperate climate. OpenTTD_LetsPlayEdition_32bit (Joker's Patch Pack). Flat terrain with different elevation changes: the river in the west. On the map one large city - Samara, which consists of the following parts: Aviagorodok, Kirkombinat, Kirovsky district, Myasokombinat, Novaya Samara, Oktyabrsky district, Promyshlenny district, Soviet district, the Volga district, Zavodskoy gorodok, Zheleznodorozhny district, Zubchaninovka. Throughout the region there are deciduous and coniferous forests, fields. In the North West there are mines for the extraction of copper ore and nitrates. In the south-west is the area of agriculture: livestock, agriculture, vineyard and coffee plantation. Near Zavodskoy gorodok and Kirkombinat there is an industrial zone, which includes a copper plant, a slaughterhouse, a bakery, a flour mill, a grocery plant, a chemical plant. There are also various warehouses near the enterprises. In Samara there is a embankment near the river, different parks, alleys, squares, shopping centers, cinemas, hotels, schools, banks, suburban railway stations, office centers and much more. Residents and guests relax in different ways: walking, camping, cycling, sports, reading books, shopping and much more. In the city there are the following types of public transport: commuter train, tram, trolley bus, bus, minibus, taxi. You can get to Samara by commuter train, bus and minibus and by car.
Map of scenario:
Attachment: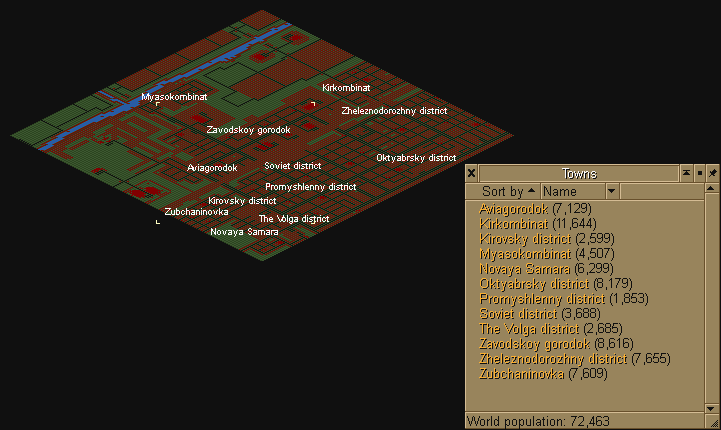 Map of scenario Megapolis Samara (Russia).png [ 27.06 KiB | Viewed 910 times ]
Full map of scenario:
Attachment:
The (official) cross-platform binary can be downloaded from
https://www.openttd.org/en/download-ratt
Docklands 1.1
Unspooled
Mop Generic NRT Road Vehicle Development (was Trolleybi)
Country Roads 0.2.3
Supplemental Unsurfaced Road Vehicles Set (SUV) (*NRT)
Ufiby's Road, Tram, Trolleybus and Rail track (renewed)
Megapolis Samara (Russia)