Deadliest Catch
Our company, founded in January 1870, will be called 'Deadliest Catch' (to be explained later), and will most notably be red. (notable because you'll see it a lot

)
Meet our manager:
Attachment:
File comment: Our manager, from proud italian stock.
03 first manager.png [ 6.56 KiB | Viewed 3314 times ]
A third generation american from Italian heritage, Tiger Marchioni founds our company with a bright dream of the future. As can be seen by the image of a quite futuristic bus! (remember, this is 1870, the world only just got its first steam bus last decade). Worth all of 2 dollars we'd have left once the bank is done with us, there is much work to be done.
As any hooked TTD player would, we have grand plans for this company.
The plans
1. Generate enough money to be able to build up a supplies chain (engineering / farming supplies)
2. Pick two towns somewhat to the edge of the map and not too close to each other.
3. Set up the supply chain near one of them
4. Set up food and goods chains at the same place
5. Grow up the city
6+ Grow up the other one
X. Connect the two by high-speed passenger rail
X+1. Profit!
Reaching these goals would be the over-arching plot of this AAR. I don't know if it's doable in our setup, but we'll find out!
I'm naming the company themed to the latest phase of the company, and the manager will be replaced to reflect this.
Now onto actual gameplay! These settings are hard, very hard. Construction costs are horrid, and will be the main problem for many, many decades to come (yay). Starting out properly is the hardest bit, and I experimented a bit in private sped up games before deciding on a starting tactic.
We will start off with ships. Reasoning: low infrastructure investment, medium returns. Drawback of ships: buoys cost about as much as an entire vessel! So the aim is to avoid placing those as much as we can. FISH has no introduction dates, so we can just pick one that fits our demands. True to FISH, our first cargo for a long time will be fish. We settle on the Banquereau utility Vessel. Average speed, small hold but low running costs. Fishing grounds don't produce much, so a bigger ship would just go to waste.
Attachment:
File comment: banquereaufic!
03b ship type.png [ 4.35 KiB | Viewed 3314 times ]
Fishing grounds are plentiful, although the margins aren't as high as we'd like them. Scouting the map before time started rolling gave us two good starting positions for fishing. If we can get away with it, we'll cover both of them. The only interesting name I could think of to do with fish is the show I watch occasionally, hence the name.
on january 3rd, our first boat leaves the dock:
Attachment:
File comment: Citizens celebrate!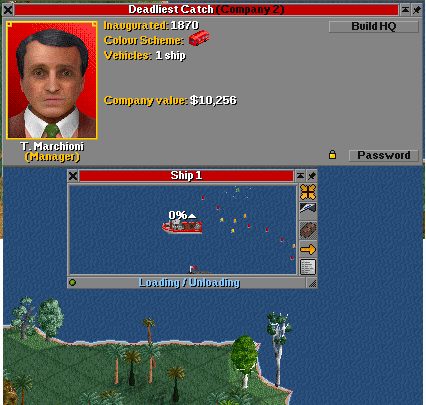 04 First ship.png [ 21.43 KiB | Viewed 3314 times ]
We immediately start spending our hard loaned money on more ships for our fishing fleet, and cover the nearby fishing grounds. At this point, we check the other player's progress and what they're doing. We're in luck! They've all started with land-based transport, some carriages and a couple of short rail lines. Since we have the opportunity, we rush to spend all the rest of the money we can use to cover the secondary fishing spot too.
[To be continued next post]