1801:
I've recently started a game in Chill's patchpack, using UKRS2+addons, eGRVTS, "sailing ships", FISH, HEQS, av8, and FIRS industries. I decided to start _very_ early (in 1801), before the invention of the steam locomotive, and see what developed. In the fictional narrative, I generally assume that (RRT3-style) there are roads and carts not seen on the OTTD map, which is why (say) brickworks can function without me delivering any clay. I'm playing with daylength 4, save that between about 1815 and 1830 I got fed up of waiting for the locomotive to be invented and switched to daylength 1.
In the late 18th century, so many fishermen from the outer isles landed catches at Pluborough Bay that a dedicated harbour facility was constructed. The company was founded to take the obvious next step; rather than fishing boats shipping their catches individually, the company would buy them up in the isles and ship them in large merchant vessels to the harbour. These vessels formed the company's entire asset base, with a debt outstanding secured on them equal to their value. This was a success for the Fort Chondtown fishing grounds, but not when the company extended the scheme further afield to the Wadinghead fishing grounds - the extra journey time made the fish unsaleable and the company had insufficient ships to provide an adequate service.
(In reality, these are FIRS fishing grounds on the map, but I like to think of them as off-map islands.)
Therefore the company discontinued the Wadinghead service, using some of the ships to extend the Fort Chondtown service and selling the remainder. With the capital this freed up, the company set up a wagonway into Fort Pluborough proper to sell the fish at market there.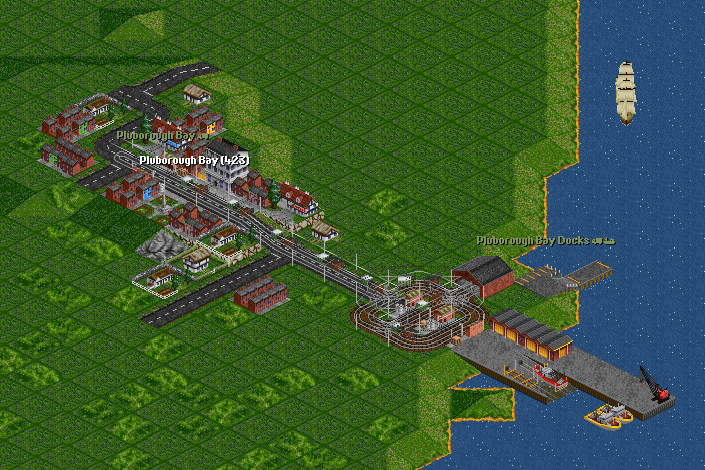 (In a game with transport faster than horses, I'd spurn the cheesy approach of selling all the food at one tiny village, but I can live with it here.)
Fortunately, in the course of construction and operation of the wagonway, the company's engineers made significant improvements to the technology, which led to key patents being awarded, and made it practical for the first time to transport passengers safely on a wagonway. With a great deal of capital from the sale of ships still unspent, the decision was taken to open an experimental passenger "tramway" on the streets of Rennford, the largest town in the vicinity. Initial opposition was overcome and by June 1801 the first "trams" were in operation.