@Purno: yes, I have been very lazy with these stations. I shall make them a bit nicer some time.
For now, the following 3 screenshots are showing some details about the CargoDest patch, rather than anything new or interesting from my particular game.

You see here that the northbound train that just arrived at the station gained both regular income (for dropping off passengers/mail that had Sleburg as destination), and (virtual) transfer money, for passengers/mail that came from the west (first constructed line), and get off in Sleburg to change to the newly constructed line 2, going to Pluntfingford in the south.
edit: only after posting this screenshot, i noticed that obviously something is off on this shot. Of course I haven't just earned 100.000 DM. I have reported this bug to the devs, so it will surely be fixed soon

Attachment:
Rocket Rails Inc., 29th Jul 1952.png [ 158.38 KiB | Viewed 8327 times ]
In the next screenshot, again the map with the newly constructed connection to Pluntfingford. Also, you can see that the dots for Fort Brontfingley (rail station) and Sleburg have gotten bigger, which at the moment indicates that more passengers are waiting there. The devs working on the patch are stating that this is going to be changed some time to make more sense if we're e.g. transporting something else.
Also to be seen on this screenshot is the detailed station window view (expandable from the normal view), showing the next hop of the waiting passengers and mail. You can see that there's few passengers and no mail going to Brontfingley HBF because a train has just left into that direction.
Attachment: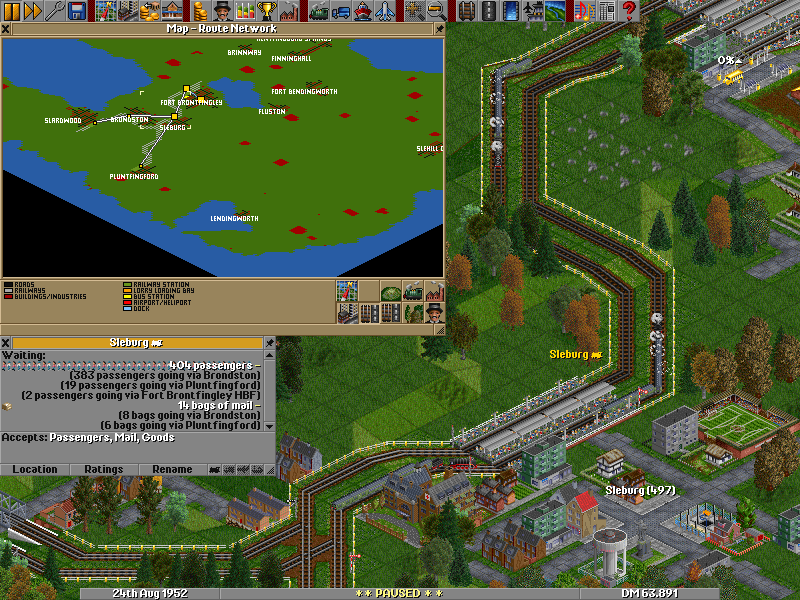 Rocket Rails Inc., 24th Aug 1952#1.png [ 117.17 KiB | Viewed 8310 times ]
Here you can see a new option in the patches/Interface settings, which allows you to customize what information is displayed in the station window. In this screen I've set it to "all sources and destinations", which displays the most detailed information (and makes your window potentially very very big). Possible settings are "all sources and destinations", "destinations only" and "next hop only", the latter of which I've used on the previous screenshot.
edit: what you can also see in this screenshot is how to expand the display for any cargo to show the detailed info. In this screen, detailed info is shown for passengers, but not for mail (toggleable by clicking the +/-)
Attachment:
Rocket Rails Inc., 4th Oct 1952.png [ 103.12 KiB | Viewed 8295 times ]
In the patch, there are four more patch settings, located in the "Economy" tab. (I won't show them as there's nothing special to them.) They are to enable/disable cargo destinations for
* passengers
* mail
* valuables
* other.
If disabled, the cargo can be delivered to anywhere, like in the normal game.
_________________
* @Belugas wonders what is worst... a mom or a wife...


<Lakie> Well, they do the same thing but the code is different.
______________
My patches


check my wiki page (sticky button) for a complete list