At last! I've had enough of learning the intricacies of tariffs and exchange rates for tonight, so as promised, here's a decent load of new screens for you

Come 1932, B&SW had enough money to expand their operation, and started a new local service from Benshaw calling at Avonstoke and Chadburg, two towns currently bypassed by the Genport express. Although only a local service, the company decided that the reasonable distance involved, and the importance of not holding up the express, warranted the purchase of another 0-6-0 Pannier Tank with the same 60mph top speed as the express. Teamed with three passenger coaches (no riding in the coal tender for this lot), the train would operate an important new transport link for the region.
Here we see our shiny new locomotive and carriages in B&SW's standard green livery loading up at Benshaw. With two trains now sharing the same tracks, Father Ted (as some overly keen citizens had dubbed the company's president) decided it would be best to install some signals, to prevent his trains becoming slightly crashed. Note also the bus leaving the station, heading to the other end of town.
Attachment: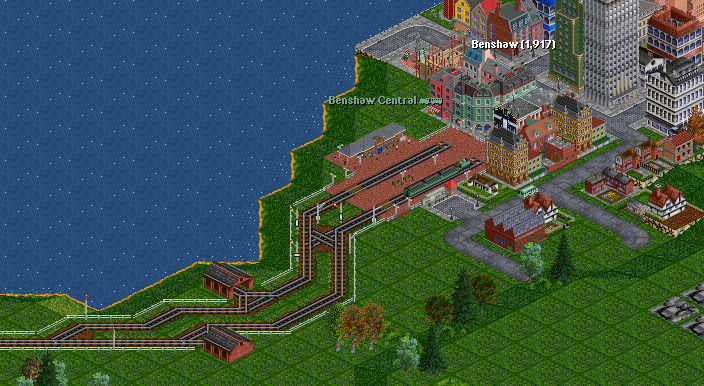 bsw010.png [ 87.93 KiB | Viewed 3308 times ]
As the train potters down the coast, the happy town of Avonstoke comes into view, as well as the express heading back from Genport. Don't worry though, Ted also remembered to tell his train drivers what the signals meant, so the express will wait patiently for our train to pass. B&SW's bus operation has spread here too, a bus can be seen loading by the waterside at Avonstoke Bay.
Attachment:
bsw011.png [ 104.7 KiB | Viewed 3303 times ]
Having exchanged some passengers at Avonstoke, the train heads away from the coast to the rural heartland of the peninsula. Chadburg is the last stop on this short route, and where the train leaves the Genport main line. Plans for the near future include introducing another train to shuttle back and forth between Benshaw and Avonstoke to satisfy demand.
Attachment:
bsw012.png [ 134.59 KiB | Viewed 3298 times ]
But first, lets have a look at what's happening around Genport...
_________________
"Blackmail is such an ugly word. I prefer extortion. The 'x' makes it sound cool."