Hi Guys, that is my Job, well we are 2 People working on Abacus TSM ( is a Payware 3D Program , but is very easy, ), i'm The Exporter , the Originals Model are made by Haridas Mederos Ocando , is a Ex-Railway Worker , Expert on Autocad, he made a lot of paper metro, and they are working on trains for Microsoft Train Simulator, and Me , i'm a Subway-Railway FAN, i work on gmax and exporting to Trainz and Locomotion , What Incluides this packet, almost at all excluding electric locos ( we havent on my country yet )
i'm Have the permisions to Export , and the subway trains are made by Me!
More Trains Comming Soon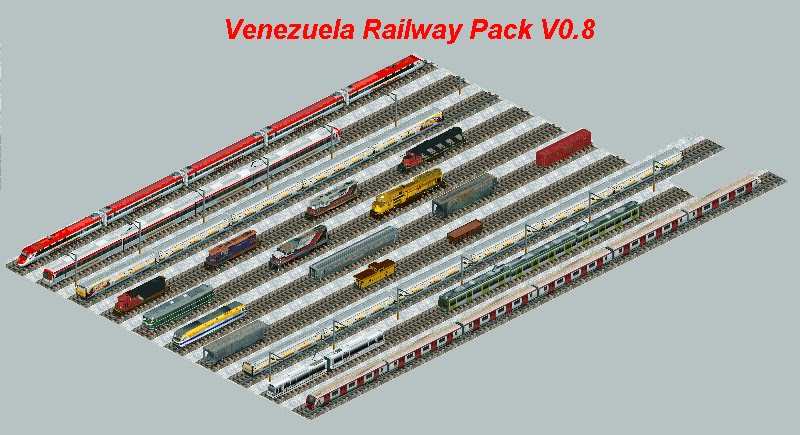 Rolling Stock : Old 1910 and Actually:
[*]Diesel Locomotives GP9 Ferronacional, FerroTransporte y IFE ( PACK MSTS )
[*]Diesel Locomotive GP-38-2 FerroTransporte
[*]Diesel Locomotive DF4 IFE
[*]Diesel Locomotive DF8B VEN
[*]Diesel Locomotive SD-70-ACE Ferrominera Orinoco
[*]DMU IFE Barquisimeto
[*]Caracas Subway Alsthom/Alstom simply and with venezuelan flag
[*]Valencia Subway ( Siemens LRV )
[*]Maracaibo Subway ( Siemens M1 )
[*]Caracas Subway ( Spanish CAF Company )
[*]Caboose Ferromining
[*]Vagones Ferromining Orinoco
[*]Grain Wagon
[*]Livestock Wagon
[*]GFV Steam Locomotives ( 5 ) and a Passenger Wagon of 1910!!
[*]Autovia ( Steam Railcar ) FIAT
[*]EMU Ezequiel Zamora (4 Cars ) Can be coupled double composition
[*]Passenger Car Sorefame used on 1973
[*]Barquisimeto G30
[*]Crane IFE
[*]Container wagons
[*]Los Teques Subway
[*]Ferromining Orinoco SW900
[*]SD-70M Ferromining Orinoco
[*]AS616 Ferromining Orionoco
[*]SD-38 Ferromining Orinoco
[*]SD-9 Ferromining Orinoco
[*]Barquisimeto M420W
[*]G-12 Ferromining Orinoco
[*]GP-40 Ferromining Orinoco
[*]F-4 Barquisimeto
[*]FIAT automotive
[*]DRS4-Ferromining Orinoco
[*]Diesel Locomotive Japanese
[*]German Diesel Locomotive[/color]
IFE = ( State Railway Institute ), Instituto Ferroviario del Estado
AND A EXTRA NOT VENEZUELAN ( AGV ALSTOM, AGV ITALO, AGV Pegasus


)
and I need Fix the price, really are so cheap

This is a old Version ( example ), and i need a new sound, WIP and a Bit Released



Some Locomotives are EX-Canadian National , and delivered to my country