UK Station Pack v1
(formerly known as BR Station Pack)
Before I continue (and before someone asks), I'm not sure if Grudz will be working on this with me. So as far as I know it is just me, which is also the reason why I have a new topic for this project. This way wont make me keep bugging him to edit the first/this post for information updates. If there is any way moderators that moderators would think of a better solution to this (like locking the old topic -again) then fair enough, but I'd like this to be the place to go to for the station pack.
Introduction
Many of you guys probably are young enough to remember the BR Station Pack and it's epic failure. For the past couple of weeks/months, I've slowly been getting back into redoing (again) the BR Station Pack. Every now and then I keep on thinking how I've just got an unfinished project with many people excited for its completion. So I thought I'd brush the dust off the ol' pack and get on with it.
For those who don't remember, or don't know what the BR Station Pack was it was a project me and Grudz had started and didn't complete (you can look at the old topic if you like, but please dont post there). The basic idea was from the station pack by RobinH (if i remember correctly) and a few other people in the Locomotion-Fanpage. It is a new track which is specifically used for making larger looking stations. Its mainly a graphical boost mod for the game, but there might be some gameplay advantages to it (like expanding the catchment area by 1 square, but thats about it, no big difference really). This pack is just my take on the idea of it, adding a different style and different way of constructing it.
All/most of the old stuff are gone. So this pack as been a total re-work. At the moment I may have enough for its first release. Only problem is making it slightly compatible with the base game. I've made one too many stations for the Standard Railway Track (traskst) to also compensate the stations I made for that track. So if there is an original station that nobody/very few people use, do tell me. Otherwise I provide a backup of the original trackst file, or you back it up yourself (I cant stress enough about backing things up, trust me, I've been a victim of not backing up too many times).
At the moment I've only done passenger station looking buildings. Plus the buildings are in one style/look, with some company colours features (as you'll see in the screenshots below). I'm going to start on the freight stations later (once I have an idea for a design, or perhaps a better way of producing the graphics other than using Gimp). Whether I shall make a first release before or after the freight stations I don't know.
I'll keep you all posted with the updates of this pack and screenshots of what I've been doing. If any of you guys have any ideas that you want to see in this pack, please do share. A bad idea is an idea not spoken... or something like that.
Thank you for your time reading this and fingers crossed I'll get this done soon (christmas is coming, after all).
Screenshots
(hope they're not too big)
Attachment:
Screen1.png [ 209.09 KiB | Viewed 8735 times ]
Attachment: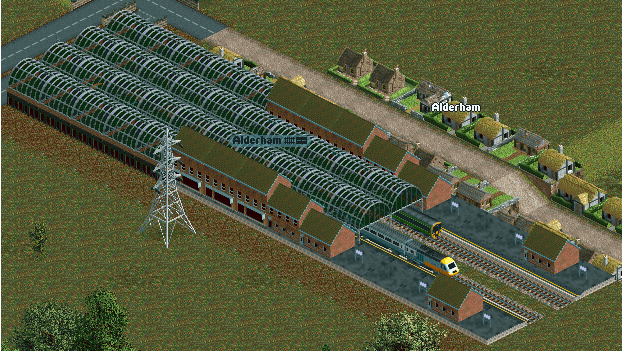 Screen2.png [ 287.87 KiB | Viewed 8735 times ]
Download
Version 1
Attachment:
File comment: Version 1 - read the Readme.txt for installation/uninstallation and a breif guides for usage. WinRar is required to open this file.
UK Station Pack V1.rar [244.21 KiB]
Downloaded 1442 times