Download: Intermodal Cars Ver. 1.1
Download: Bethgon
Download: ACF 3 Bay Grain Hopper
Download: Bulkhead Lumber Flatcars Ver. 1.2
Download: Locomotive Pack 1
Download: Hazmat Train Ver. 1.1
EDIT*
Updated 08/04/08 Added Hazardous Materials Train *updated 1/23/09 fpr Vista/UAC
Updated 07/23/08 Added Locomotive Pack 1
Updated 02/10/08 updated Bulkhead Lumber Flatcars to Ver 1.1
Updated 01/04/08 added ACF 3 Bay Grain Hopper
Updated 12/24/07 added Bethgon Coal Porters
Updated Flat cars to ver 1.1 due to scrambled PNG in file.

END EDIT*
OK, OK,
Don't take this too seriously....
I am working on a few new Items (I say new loosely they should look familiar in a much better quality)
Since I am building these items for beta, I thought it might be fun to Make New textures for the Items. I wanted a company that makes everything. Who else but the Umbrella Corporation? They ultimately will take over the world.
First items up to bat.
Intermodal.
MHQ Multi-state Inter modal cars with working loads and bogeys.

Pigs on an 89' Flat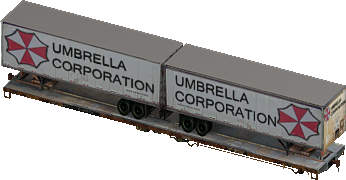 Pigs In well cars

Car 1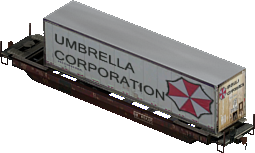 Car 2 (Different slogan on each side)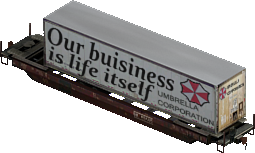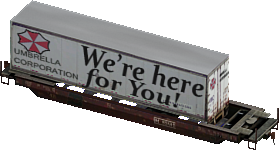 The Piggybacks load one trailer at a time in lomo for 1/2 cargo.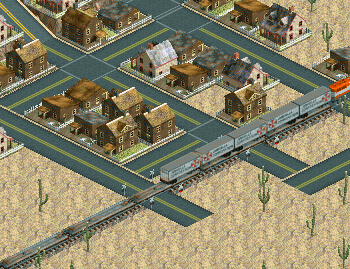 Gunderson All Purpose Well cars & RTTX 89' intermodal flatcars
Base Shapes and Base Textures by "Funnelfan" Ted Curphey
Umbrella Textures by Plastikman
MHQ conversion by Plastikman
Let me know what you think about these. both the cars as a beta for North American items in lomo and the idea of releasing more Umbrella Corp (and maybe other similar ideas).
Next up, Coal hoppers (or boxcars)....