Zephyris wrote:
...I'm sure someone will want to help coding, possible even me! To get people interested in coding it would be good if you could make a table of the vehicle statistics and a proper tracking table so a grf can be planned out
Okay, can do. Would be great if you were prepared to code. GRVTS is a very coherent and functional set, and I'd be looking for something similar with these.
Zephyris wrote:
...the road vehicle IDs are very limited, it may have to rely on the vehicle pool.
I figured that would be the case. I was going to start drawing this a year ago, but didn't see how IDs would be made available - and it's intended as an add-on pack of specialised equipment, not a full RV pack, so would have a been a flawed set of limited use. Hopefully engine pool will make that a non-issue.
Zephyris wrote:
...I would recommend using the company colours (and preferably dual company colours) - a player will always have the option of choosing a "realistic yellow" if they want, but for casual players company colours make things a lot clearer.
Okay I think I agree - most of the vehicles don't have livery as such, they are mostly just yellow in real life. So company colours would work well (they could just be green, red etc, it would be fine).
The only reason I am reluctant on this is that it's nice eye-candy to have vehicles in the same company with different colours - especially with a realistic trainset like CanSet.
I was thinking about doing it like PlaneSet where the choice of company colours or real livery is random on build. I like having that choice but it can also be frustrating in the game.
Another option is to have full company colours for some vehicles and then use those colours in patches on some yellow vehicles - similar to how ISR does company colours on buildings.
Either way I want to keep it simple to code and draw to get a release of the set done.
Zephyris wrote:
Feel free to recycle my sprites, especially the cargoes if you want a consistent look with the GRVTS.
Thanks, I will do that, it will help a lot. I'm going to ask about permission to use some of the ISR cargoes as well, some more really nice graphics there.
Zephyris - do you have any advice on bounding box sizes? How did you do double-decker vehicles? Do they go outside the box from Purno's tutorial?
Attachment: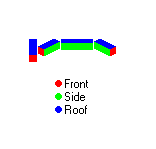 ttd_bounding_box.png [ 537 Bytes | Viewed 108965 times ]