One small feature I think is missing in NRT is the ability to define a set of level crossing underlay (overlay?) sprites per each road/tram type.
I know railtypes are supposed to handle crossing graphics, and it's fine that they handle the track overlay and signage/crossing bars/etc., but they can't modify the underlying road tile (not in a reliable way, anyhow). I think it would be beneficial to add a level_crossing graphics callback to allow road/tramtype authors to supply at least a basic underlay sprite to help make crossings look more "natural".
Right now, as long as you use a good railtype NewGRF the effect isn't too bad. But especially when using the baseset rails the crossings look pretty terrible with the track overlay just haphazardly pasted over the road, and could use some custom road crossing sprites to help blend it in better

Some pictures below to help explain:
This is what crossings currently look like (using baseset rails):
Attachment:
current_nrt_crossing.png [ 5.42 KiB | Viewed 1028 times ]
And here is an example of the effect I want to achieve (Using ARRS and baseset rails, ignore the crossing lights):
Attachment: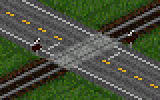 desired_nrt_crossing.png [ 5.18 KiB | Viewed 1028 times ]
Obviously the effect won't be quite so seamless with NRT due to the way the track sprites are applied, but at least it could be significantly improved. While in combination with a railtype NewGRF, however, the effect could be nearly perfect

I don't know if anyone else agrees or would use such a feature, but I know I certainly would!
Diesel Power wrote:
That's a great idea! Haven't played a wasteland game in a while, might start a new one...
Yes, and I need to get back to working on it. One of these days