I have added two new features.
You can change fonts and their sizes while playing:
Attachment: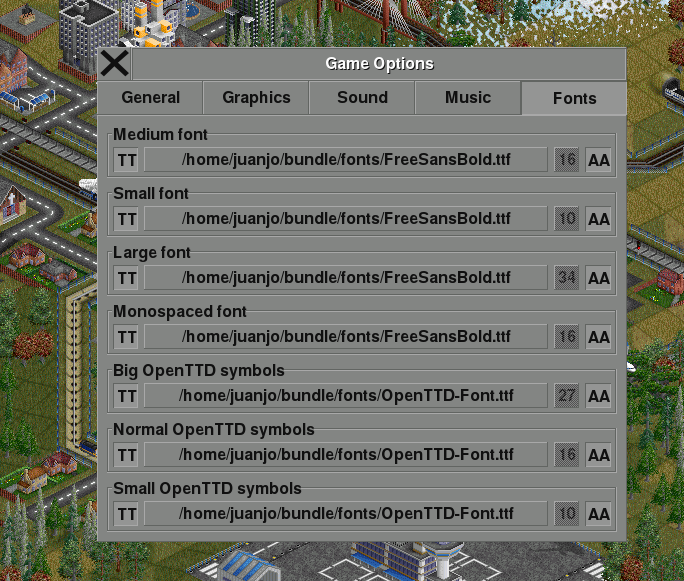 fonts.png [ 287.29 KiB | Viewed 2251 times ]
I also added some fonts and graphics needed in the bundle.
I am also toying with the idea of multi-tile depots, built like stations and with added limitations, changing the strange "black wormhole" effect that allows to keep lots of trains hidden in just one tile. First of all, the default behaviour of depots (small depots) isn't altered.
For big depots, there are some issues to fix, but I think that the feature is already playable. As a first approach, I thought about this rules:
In big depots, user can join different depot tiles under the same depot (per vehicle type).
Servicing in big depots take some time: service is not done instantly.
In big water depots, only one ship is allowed in each depot part and ships don't disappear in the depots.
In big road depots, each tile can only store three vehicles. If one road depot consists of x road type tiles and y tram type tiles, the depot can have at most x*3 road vehicles and y*3 trams at the same time.
In big rail depots, a depot can be made of different platforms of different rail types. If possible, the trains are placed in the depots and can be seen if transparency for depots is enabled. In some cases, trains can't be placed in the platforms (length, rail type, no free platforms...). Under such circumstances, trains will be in the "black depot wormhole", waiting for a free platform where to be placed.
These images show what the idea is about:
Attachment:
File comment: Depot #3 is made of four platforms (3 rail + 1 monorail). There are four trains (1, 2, 4 and 5).
bigdepot.png [427.11 KiB]
Not downloaded yet
Attachment:
File comment: Toggling transparency, trains 1, 2, 3 and 5 are visible. Train 3 is not inside the depot (it is moving along one platform). Train 4 is not visible and cannot leave the depot (all compatible platforms are occupied).
inside.png [432.52 KiB]
Not downloaded yet
I don't have much time to improve the patches, but I will continue working on them when I have time and post here any update.