hackalittlebit wrote:
Latest update of patch[...]
nice, here's some more testing by mr. extreme-bug-finder

Quote:
Solved most of the problems encountered by Roujin.
very short tunnels can still bypass the no-crossing-tunnels limitation (see screenshot)
(the long tunnel again was an undersea tunnel, then filling up some land and building the very short tunnel; finally filling up the remains of the sea

)
Attachment: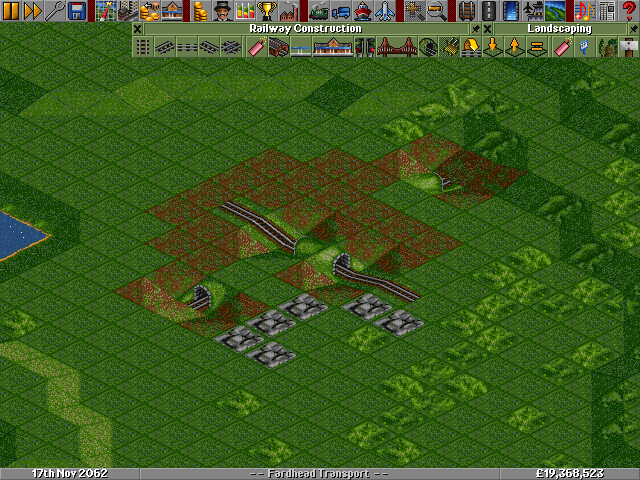 chunnel vst.png [ 43.64 KiB | Viewed 28849 times ]
Quote:
Terra forming downward not allowed over tunnel upward allowed(Is that a problem?)
[...]
I'd say it is, because it does not make sense: imagine there's a sea and you build a tunnel through it. You can then raise a piece of land where the tunnel is supposed to be. But then you cannot flatten it again? For what logical reason would that be?
Plus it destroys the image of a floating tunnel, that is used when building such an undersea tunnel.
The problem if you want to enable both raising and lowering is, then you have to enable lowering everywhere, that would mean tunnels being complete wormholes. No more "can't lower land here: tunnel in the way", crossing tunnels by default, heck why not introduce the arbitrary tunnels again then?
So the only way to go would be disallowing both raising and lowering. Luckily, there is also a logical explanation for it: we just say those undersea tunnels are of the "floating tunnel" kind. This of course explains why it's forbidden to raise a tile above the undersea part of the tunnel: the tunnel is floating in the water there, so it's in the way if you plan to raise the land there.
As a bonus, imo it would even give a logical explanation for the following discrepancy:
Forbidden: raise land in the middle of a sea tunnel
Attachment:
chunnel disc_1.png [ 48.1 KiB | Viewed 28853 times ]
Allowed: destroying the tunnel, raising the land in the middle of the sea, building the tunnel again
Attachment:
chunnel disc_2.png [ 49.31 KiB | Viewed 28850 times ]
The explanation for this would be (again using the idea of floating tunnels) that floating tunnels are used in the second picture from coast to coast, then a little peace of normal land tunnel, then again a floating sea tunnel from coast to coast. This cannot be archieved just by filling up some land when there is already a floating sea tunnel through the whole sea (image 1).
---
Uhm, are my ideas still understandable?

_________________
* @Belugas wonders what is worst... a mom or a wife...


<Lakie> Well, they do the same thing but the code is different.
______________
My patches


check my wiki page (sticky button) for a complete list