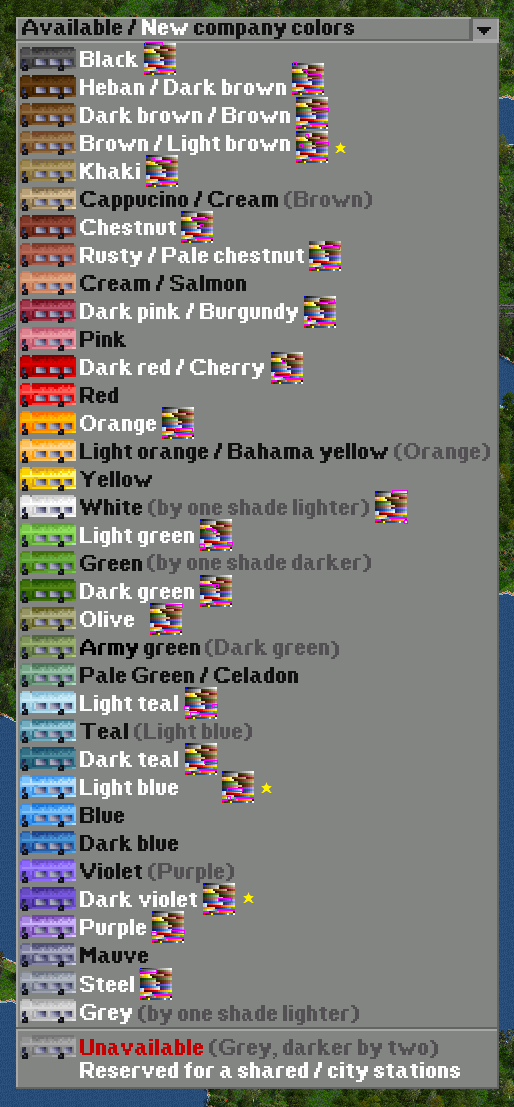 Though I feel it might be a little naive, I wish to read that it would not be particularly difficult to add this...

I think that probably everyone has felt a lack of a certain color more than once, especially when he played online and the only colors left to choose were the ones he didn't like very much.
Is it possible / easy in terms of coding - I don't know. However, by looking at the available color palette, you could squeeze out of much more than the current 16 colors. The graphics show 36 of them. You could bring out even more of them, but the differences between the vehicles and labels of the companies stations would be too small and sometimes it would be difficult to distinguish them.
Next to the sample color names, I have included small graphics of color palettes with highlighted shades used for a given color. I marked the colors with stars that might have some problems due to too little contrast or insufficient shades.
In case of increasing the number of available colors, I think it would be a good idea to reserve one of the colors for city owned / shared stations.
Yes, there is an add-on like NewCC Set that overwrites existing colors and I like very much, but this suggestion is about increasing the number of colors available so that especially in an online game there is a greater choice of colors.