As others have said, you need signals.
If you don't place signals, all tracks together form one big area where a train can be. Since rail operations state that you should avoid collisions at any cost, safety regulations allow at most 1 train in each such area.
With one area like you have, you're going to get 1 train at a time.
You can split your tracks into several seperate areas by means of signals. You have two distinct areas if the only way to get from one area to the other area is by passing through a signal. Such areas are also named "signal blocks" for that reason.
Many train games insert signals automatically, in OpenTTD adding signals is your job. While it is some extra work, you can precisely tune how your trains are running, and there is much more room for improving performance than you think now

In short, understanding signals is key in getting further. I would advice to start with the one-way path signal as it's the simplest signal to understand, and it covers for 90+% of your needs.
For your problem, you need two-way path signals around the center station, which I show below
Attachment: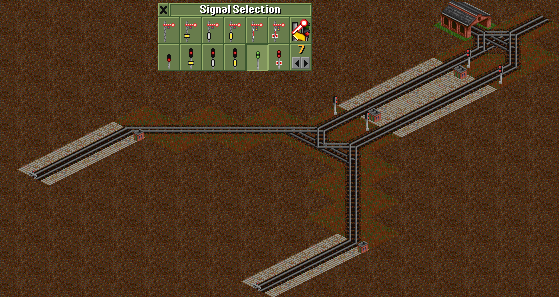 Screenshot_20171203_085058.png [ 49.73 KiB | Viewed 474 times ]
I picked a different station set to make it easier to see the signals. Also, I shortened the lines connecting the stations somewhat to limit the size of the screen shot. Note the additional connection between the tracks near the 2 platform station. The reason is that a train will pick any empty platform from the depot. If it picks the "wrong" one, it can't go to its next destination. The additional tracks solve that problem. (It also breaks my claim above of 1 train in 1 area, but that restriction changes if you use path signals.)
Happy playing and experimenting with signals!