Baldy's Boss wrote:
The "Georgian Coach & Wagon Co." starting in 1714 (the year George I became King in Great Britain) would be intended to never build anything but horse carriages as long as it lasted,to see how long that would be...it sounds like you're saying it couldn't make it to when inflation stopped in 1884.(Green Victory Railroad,started in 1865 at the end of the USA's Civil War,doesn't run road vehicles but some competitors in 1931 still have horse carriages).
Buddy, it seems like you can have your "Georgian Coach & Wagon Co." after all. The strategy is a bit counter-intuitive, at least to me.
I just couldn't let go of the idea, so I started to rethink the scenario. What's really killing the economy, is the vehicle maintenance. They sure eat a lot of hay, them horsies. So, I went back to 1714 and started over with 20 4-horse mail carriages. They started out with a slightly smaller net income, but the situation actually improved over the years. As the devastating effects of the inflation approached maximum, even these carriages eventually started to lose money around 1860.
Rather than going back to start, I saved the game, and swapped my 20 4-horse carriages for 26 2-horse carriages. They have each only half the running cost of the 4-horse carriage. They continued to make a profit, but still not sufficient to pay for their own renewal costs. This is the crucial point: If your total net income over the vehicles' lifetime can't pay for their regular renewal, the company will eventually be lost.
Here is a table of the 2-, 4-, and 6-horse carriages with speed, cost and annual running cost after inflation's end:
Code:
Name                Speed       Cost     Annual RC
2 horse carriage    20 km/h     £31,265     £2,858
4 horse carriage    26 km/h     £51,588     £5,717
6 horse carriage    32 km/h     £71,911     £8,575
In 1876 the 2-horse mail carriages still made money, but not quite enough. So I finally decided to go with lcd_47's idea after all:
lcd_47 wrote:
In 1860 there are banks next to your stations, you could diversify by refitting some carriages to valuables.

I bought 26 armoured 2-horse carriages, copied the order list over from the mail carriages, and let them loose. The income sky-rocketed. By 1887 I added another 4 armoured carriages. With 56 2-horse carriages, the company's financial situation finally appears sustainable.
The 2-horse carriages (both mail and armoured) now cost £31,265 each, and have a lifespan of 25 years. Thus, the company's annual net income per carriage will have to be above £31,265 / 25 = £1,250.6. With 56 carriages, the annual net income must surpass £70,033.6, which it now does by a very safe margin.
To maximise the profit, it might now be wise to discontinue the mail service, but I'm just not that hard-nosed about it. As long as the company seems able to make money indefinitely - or at least until a bank goes out of business - it's all right with me.
So, once again we have a story about how the lowly prevail where the mighty have fallen. You don't win this kind of game with high profits, but with low running costs.
I conclude with a savegame of 1st January 1902 and the financial results for 1901, with the obvious reference to British royalty and the end of an era. The previous year's new vehicle costs reflect the partial renewal of the armoured carriages.
Attachment: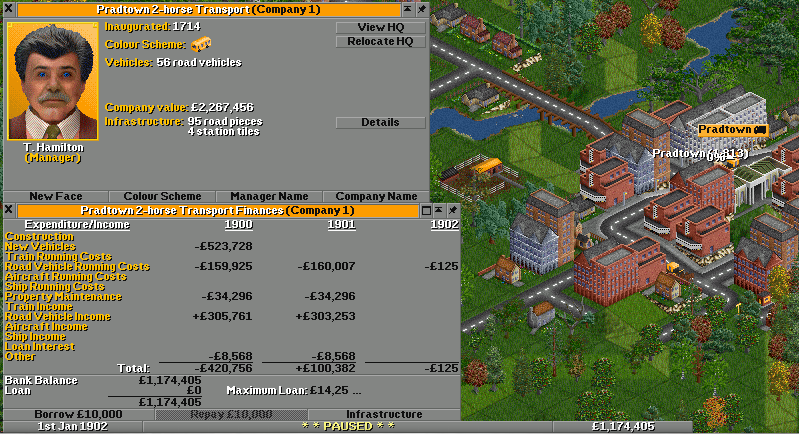 pradtown2.png [ 292.05 KiB | Viewed 1606 times ]