How To Generate Suberb Heighmaps on Mac:
OTTD does a really good job at reading heightmaps, and reading this topic has inspired me to also create some real world scenario's.
But since I have a Mac, I had to use a different program, and so I decided to share this. Also I'd like to promote my upcoming scenario, hehe.
So here's what I used:
1. Google Earth + the SRTM 4.1 plug-in (link in OP)
2. SimpleDEMviewer -
https://www.jizoh.jp/english.htmlglish.html
3. Photoshop
4. OTTD
I know Photoshop is not free-ware, but since it's what I used, I thought I might aswell include it.
How To:
1. Google Earth
As explained, through SRTM you can just click on one or more of the heightmap-links shown in the red circle to download the DEM file.
2. SimpleDEMviewer
Now use SimpleDEMviewer to open the image downloaded from Google Earth. Now you have to convert it to a greyscale image.
Select -> Tools -> Greyscale
To make sure that the image makes a clear difference between the sea and the lowest land-mass, we increase the default land-height by 100. Also set sea level to 0.
Now create the greyscale and save the image.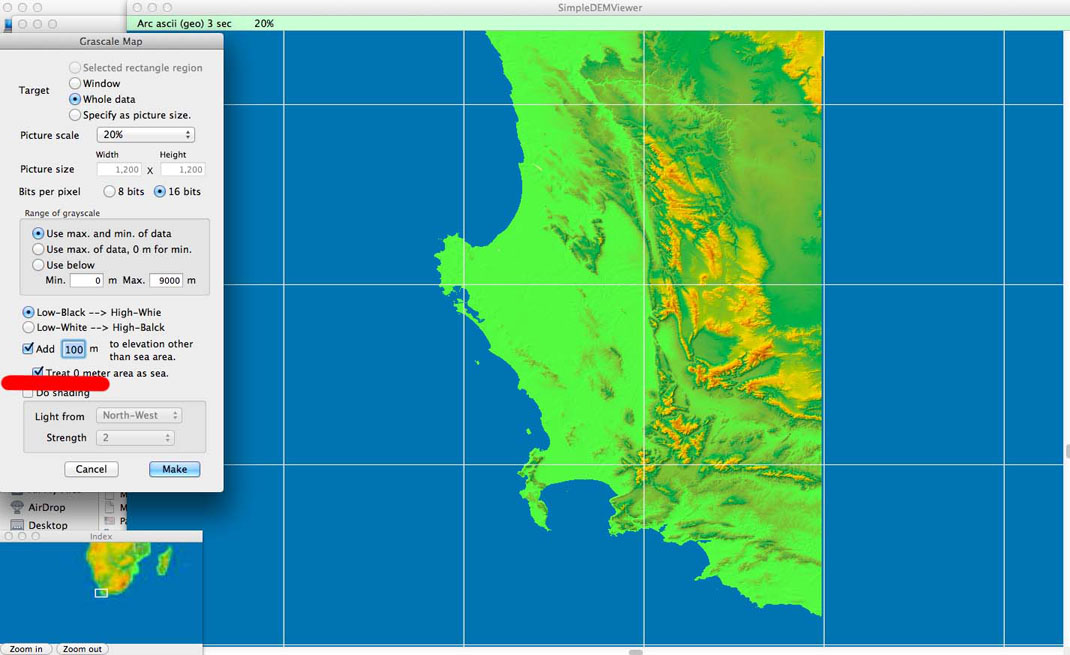 3. Photoshop
The greyscale is already usable, but will not work nicely for OTTD because of the resolution. Also in some cases you want to get rid of a big body of water and focus on (specific)land rather. I do this in Photoshop.
First I edit the Image Size and scale down the image by 20%, just to make sure I can use most of the image's landscape.
Next I edit the Canvas Size. This is a very nice tool, since it allows you to get rid of most of the water and you can immediately set the right pixel resolution.
The geography of my map allows for a nice rectangular OTTD map, this is 1024 x 2048
So in the Canvas Tool I want it to adjust the Width to 1024 pixels and the Hight to 2048 pixels.
Before I adjust the size, I anchor the image to the right side of the canvas. This will make sure that any adjustments will use the right size of the image as the base, and so that will stay intact.
Now just save the new OTTD-proof image as a PNG file...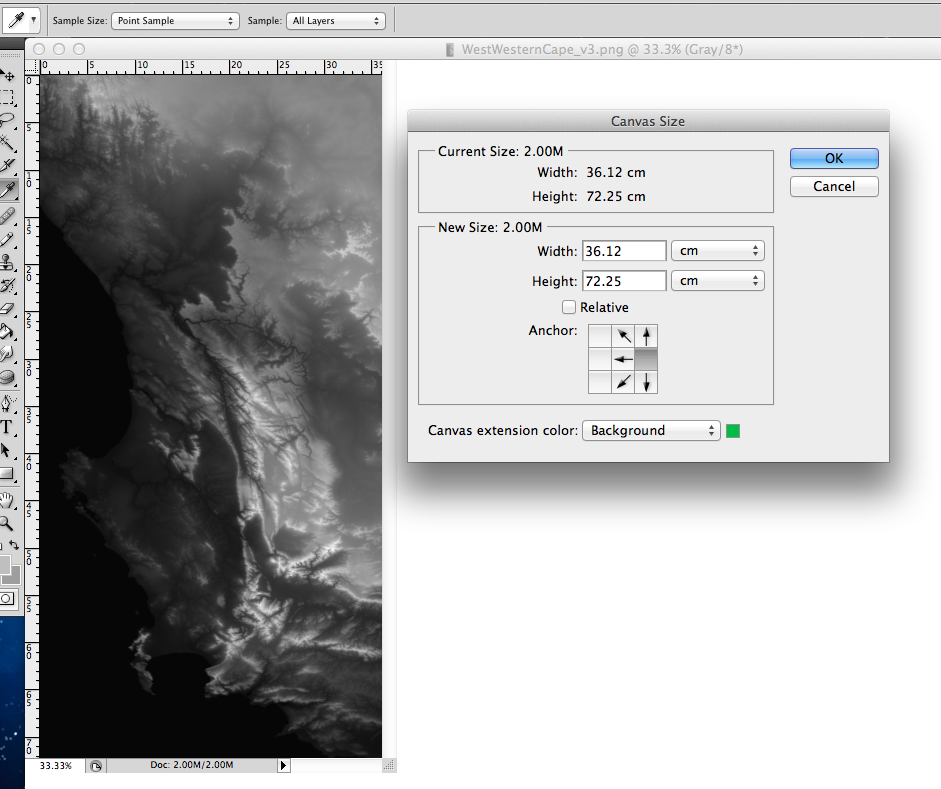 4. ...and open it in OTTD with the same resolution settings.
As you can see, I am creating the South African Cape with most of it's West Coast District. Through Town Planning and Urban Design internships in Cape Town I've studied the Cape and the District's Spatial Development Frameworks. I have learned a lot about this area and now I just want to recreate that into an OTTD Scenario.
Hopefully I will be able to show some results in the Scenario section soon!