Its nice to have an architect on the job!
As we have said, we use reduced scale (80%) to squeeze just a bit more into available space. We do it by modelling it in real scale (we use building plans or photographic reference) with one side of a tile being 15,5 meters long, then rescale it so its 12,4m long. Its surprising how well that works.
Nice comparison side by side, it looks similar, but there is a difference. In first row the last house on the left with orange-tiled roof is the only one that is not rescaled down - it was first house in our house set and I used to learn basics with town sets. Therefore its not good example to use for comparison, but there is no way you could know that (in fact nobody except us from CZTR Team knows that... probably). Its properly scaled variant is a tad smaller with round pool with kids playing in it.
Fun fact - the building itself and the fence around was modelled in 3D software, but all its 26 variants were hand drawn by me (difference in windows, front yard, garden, chimneys, roof tiles and that tiny swimming pool you mentioned). I would love to say its a homage to all hand drawn sets and that it could serve as an example that beautiful 32bpp graphics with extrazoom can be hand drawn... but since then I learned how to use Rhino3D (btw what do you use?) and everything made since then is either 3D or Photoshop, so its was more like necessity than intention.
Back to comparing.
Difference pops up when you put that two storey buildings side by side. Those in you examples are houses that are 100+ years old and oh boy, they built it quite large. The house on the left is old elementary school, height from floor to ceiling would be at least 3,5 meters, while it would take at least another half of a meter for the floor of the next storey. Also there will be fully fledged attic. I am looking forward how your houses would look if you scale them down a bit, especially if you start modelling larger structures.
It would be great if it were possible to have larger or differently shaped town buildings than 1x2 or 2x2 tiles...
As for what kamnet wrote - well, yeah. When planning layouts for our industry set I realised that fully. Here is an example of power plant I used as a reference:
And here it is "layoutized" for OTTD purposes: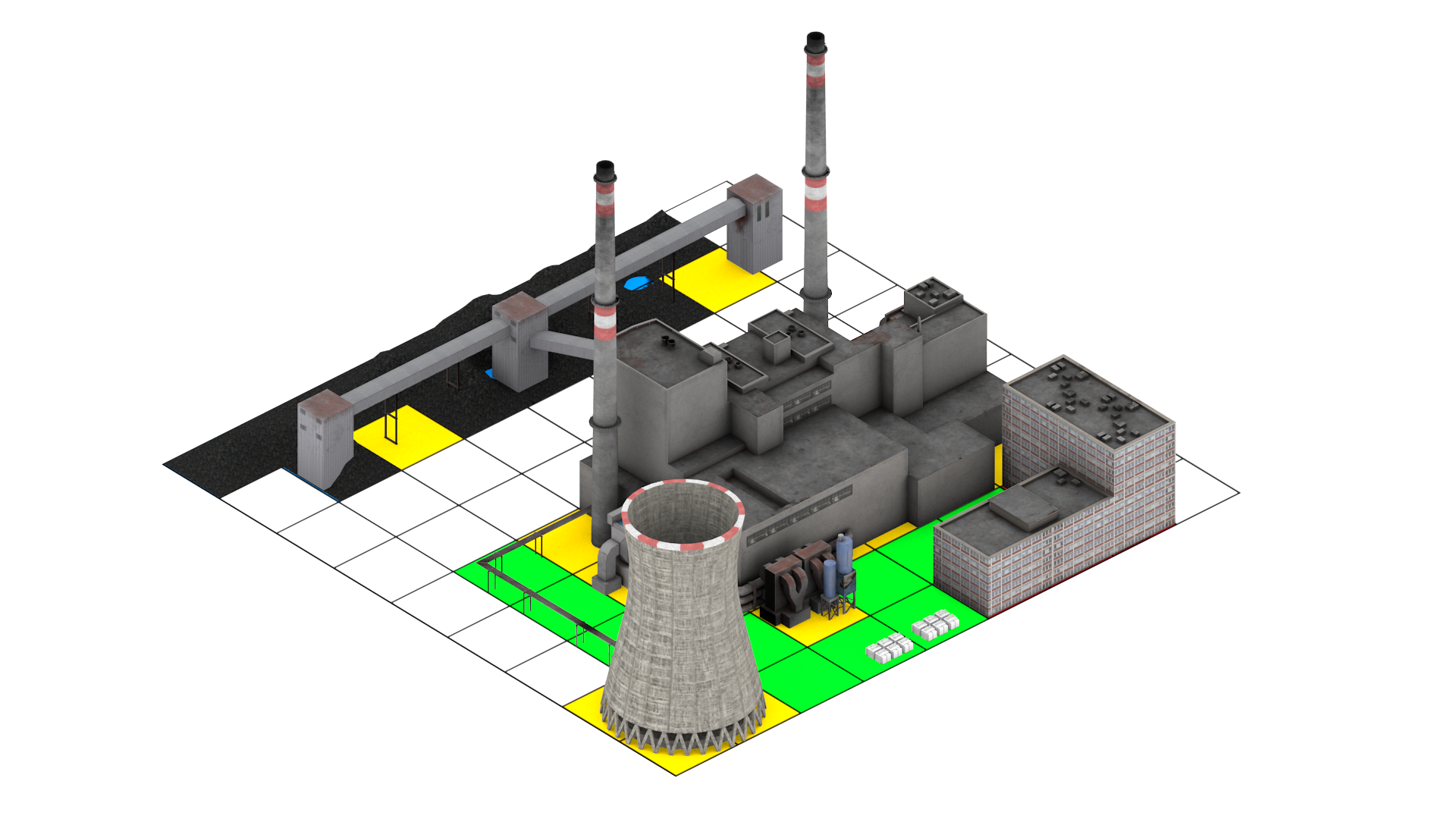 Personally I would love to have huge industries, not only would it fit snugly with the rest of our sets, but also the economy of player companies would probably improve via enforced distancing between industries. There is only downfall that it would require an ARMY of 3D modellers at my disposal and that I do not have