Opan wrote:
Another style I think would be cool to see, is an underslung truss, like the attached image of the rail bridge over the Nipigon river. Something kinda like what I just threw together here? Except obviously not my graphics since they kinda look crap but something similar..

Again great work!!
Thanks, I do have some ideas in mind for a bridge of that type, I want to include at least one for sure

. I started making one last year but never got far on it, probably going to try something else:
Attachment: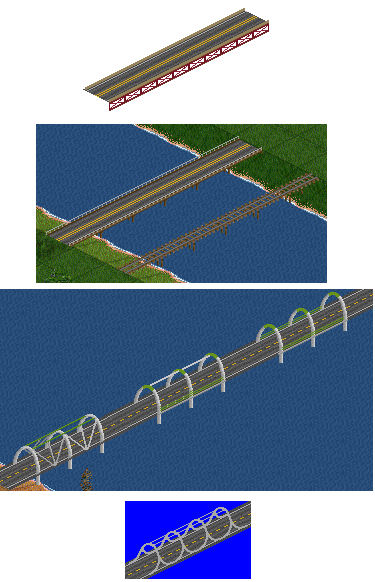 somestuff.png [ 65.66 KiB | Viewed 2446 times ]
The other bridges there are just some rough concepts. The wooden one is obviously meant to be the counterpart to the wood trestle, but I'm not sure it looks 'interesting' enough. Wood road bridges are generally pretty plain though, and I think it needs wooden planks instead of asphalt. The others are just me messing around with a possible tubular replacement, obviously very rough.

NekoMaster wrote:
Another thing that could be done for this bridge set is make a bridge that is of a decent speed, but make it nearly invisable and maybe use NewObjects (like MariCo or Dutch Highway thiny) as an overlay for other bridges that you may want to include (perhaps even the most famous bridges that may not be possible with normal bridge graphics)
Hmm, that's an interesting idea. Might be something to think about in case I run out of bridge slots

(won't happen anytime soon)