Quote:
Found some planking ..
That looks very good!

The only comment I could have is about the "waves" around the pillars. Havent seen it ingame offcourse, so it may be allright, but by just looking at the screenshot I think it is just a bit too much.
They seem to form a complete line, which gives an effect of the water under the structure being cut-off from the surrounding water, it kinda looks more like a wave hitting a beach than a narrow pillar. And that way the structure doesnt look like being part of the water. Maybe lose a couple of pixels and just have a few around/next to the pillars, so that there is a bit of room between the pillar waves. This may give a more gentle effect of water hitting the pillars.
I think at least double rows should be avoided, like these:
Attachment:
Example143.png [ 277.27 KiB | Viewed 897 times ]
Also using more different colors from the watercycle can give a nicer effect, kind of like a wave/swell passing by the pillars.
Take a close look at some of the objects in ISR/DWE or Marico:
Attachment: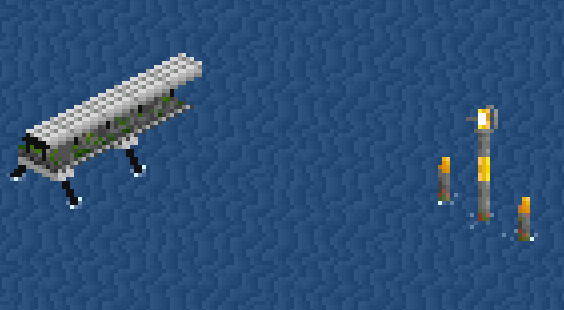 Example144.png [ 27.93 KiB | Viewed 897 times ]
Those may give you some ideas that may be worth trying out.
_________________
Projects: viewtopic.php?f=26&t=57266
Screenshots: viewtopic.php?f=47&t=56959
Winner of the following screenshot competitions:
sep 2012
,
jan 2013
,
apr 2013
,
aug 2013
,
mar 2014
,
mar 2016
All my work is released under GPL-license (either V2 or V3), if not clearly stated otherwise.