I've renamed NSWTrains to AuzTrainsNSW.
Here's a copy of the first issue .. but I kept the version no. as 25 in line with AuzTrains .. makes it easier for me when coding if both have same version.
Attachment:
AuzTrainsNSW.rar [517.61 KiB]
Downloaded 39 times
When I get the time to start adding trains from other States, I will most likely separate them to their own sets like I don't for the NSW lot. Such as AuzTrainsQld, AuzTRainsVic, making all the locos, DMU's and EMUs for those States be the hardest. The rolling stock basically can use what I done, just renaming and recolour them, especially passenger coaches.
Changed the names of the new wagons to Articulated Container Wagons.
Attachment: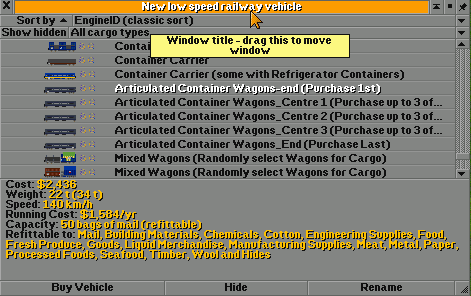 Purchase List.png [ 17.94 KiB | Viewed 2782 times ]
To make a train with these wagons purchase as follows:
Articulated Container Wagons-end (Purchase 1st) - Purchase this one first.
Articulated Container Wagons-Centre 1, 2, and/or 3 Purchase any 3 of these in any order. Can be 3 of the some or a mixture.
Articulated Container Wagons-end (Purchase Last) - Purchase this one last.
Then can add more sets purchasing each set in same order.
You can tell if have in correct order by the white wagon label at end of the End Sets. Centre wagons do not have this white label. (See pic above)
Hope that understandable.
Cheers