Quote:
the bends in the tracks are not realistic
True, If you want to make a bend realistic (like pic below), you would need something like 10 tiles to make that curve. But I wanted something to link the rails of the cranes with the rails of the dock. The way I build up my harbours, I would like my docks to have rails. I will make different options of the docks, including ones without rails, so you dont have to use the bend rails. Only problem is that you can have just 1 type of dock in the game, it doesn't allow different styles of docks at the same time. So you have to be inventive in how you build up your harbours.
Attachment:
cranecurve.jpg [ 44.49 KiB | Viewed 23273 times ]
Quote:
i pfrefer a different base grf under it with some sort of road? aka contrainer-trucks can drive "under" it, specially regarding the last few shots, how hard would it be to add a road under it, and make the trucks pass under the cranes (if possible at all)
I dont really know what you mean. Regarding the shots of the trucks driving over the ISR road, there is a "normal" road under it. So it is possible to replace the ISR road with, for example a crane, Trucks would drive under that. Couple of problems:
- I don't know how to animate objects, so the crane would be static. That's not too big of a problem, because if you animate objects, they would be moving all the time. They don't get triggered by a ship/car/train loading or unloading (correct me if I'm wrong). And that would look strange, if it moved around with nothing there.
- Because it's an overlapping object, you would need a second objecttile to add the graphics that the passing vehicle cuts off (see below) and that means adding a second tile below to make up for the lost graphics. So a drivethru crane would take up 3 tiles. But hey, harbours are big aren't they

Attachment: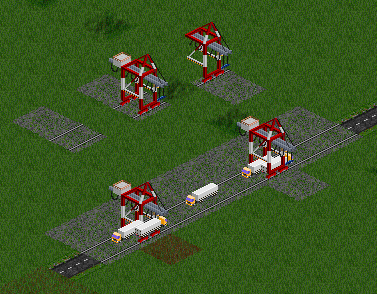 newdock10.png [ 35.58 KiB | Viewed 23273 times ]
Well I would like some more suggestions of what kind of overlapping tiles we need where vehicles can drive over, So we have the ISR road, the Crane and cranerail, The guardhouse, what more?
_________________
Projects: viewtopic.php?f=26&t=57266
Screenshots: viewtopic.php?f=47&t=56959
Winner of the following screenshot competitions:
sep 2012
,
jan 2013
,
apr 2013
,
aug 2013
,
mar 2014
,
mar 2016
All my work is released under GPL-license (either V2 or V3), if not clearly stated otherwise.