SNO - Supercheese's NewObjects
I have a zillion ideas for this set, and although the set won't be "done" any time soon, I have a handful of objects already completed and I am steadily adding more. As such, I've decided to upload what I've got so far. You can think of it as an early "alpha" or whatnot. You can download from this post or from Bananas (search for "Supercheese" or "SNO".)
This set adds several NewObjects to enhance the OTTD experience, mostly centered around water-based objects.
Attachment: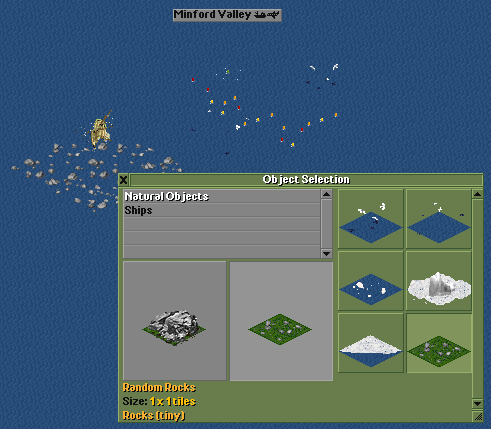 Objects.png [ 10.56 KiB | Viewed 15649 times ]
Currently included are:
- Circling Seagulls (small and large)
- Ice features
- A shipwreck
- New rocks (small & tiny variants)
Features and parameters:
The seagulls and rocks can be placed on land or water, but not on sloped land (although seagulls can be placed on sloped water). Their groundsprites are snow- and desert-aware, but there is no snow (yet) on top of rocks if they are built above the snowline.
Ice features and the shipwreck must be placed on water.
All objects have elements of randomness to them, either in random graphic variations or starting animations on random frames. Being, for the most part, naturally-occurring objects, they also have zero build cost.
The seagulls will occasionally emit sound effects. If you place a bunch of them together, be prepared for a cacophony! There is a grf parameter to turn the sound effects off, if you'd rather.
The second grf parameter determines whether the objects can be built in a running game, or only in the scenario editor, and if they should be irremovable (like the default lighthouse and transmitter) or not.
There are many, many planned features for this set, too many to list really. I'll post updates as I complete more objects/features.
Known Issue(s):
The large seagull sprites extend a fair ways out of the tile, and as such there may be slight clipping/artifacting issues.
That's it for now. Enjoy!

_________________
Eyecandy Road Vehicles | Fake Subways | Supercheese's NewObjects



"Fashions and cultures change, but steam trains shall always be majestic."


-Professor Hershel Layton