Edit: I've finished a new version, check the last post

Two days ago, I got an idea for a way to implement something that I have wanted in my games for awhile. I threw together some graphics for it yesterday afternoon, and have decided to go ahead and present what I have so far here so as to gauge what if any interest their might be out there.
Attachment:
File comment: Modular Locomotive Shed Mock up
7.PNG [ 11.21 KiB | Viewed 13083 times ]
First: What is this, how is it different from train sheds already present in station sets, and why bother?
This project is the first (to be released, not conceptually) component of a much larger set I am working on, that will hopefully eventually see the light of day, and provide an interesting twist on game visuals and track planning. With regard to similar items in, say, ISR, this idea is similar in that it serves primarily an "eyecandy" function. It will not introduce anything that isnt already present within the game. It will just make certain constructions more visually interesting. It differs from ISR train sheds in that it uses graphical illusions to simulate structures not yet feasible in OTTD. Why does this matter? Well, if you like to timetable trains to lay-up or stable in a depot or yard between runs, this project can add more interest to that aspect. If you are patiently awaiting depots with bi-directionality or multiple entrances, this can let you approximate that in a way that doesnt compromise the visual appearance of your depot complexes.
We can already create a depot that looks like the above image by using GRFs like Modern Depots or Bigger Depot, and simply place lots of depots behind the one you plan on using. The effect is visually appealing, and simple, but the extra depots serve no useful function, and can be a liability if purchase an expensive train and give it a complicated new set of orders only to find out you clicked the wrong building, and you will now have to sell it for a loss. At its most basic, this project improves on that by adding station tiles that match the depot. Trains drive through the station to the singular depot. While only one depot graphic is available per railtype, the station tiles can be used to add variety to the "depot".
Attachment:
File comment: Sample variations of depots and train shed tiles. The lower views are depot rears and buffer tiles respectively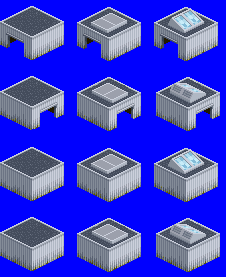 New shed depots.PNG [ 9.2 KiB | Viewed 13080 times ]
This project aims to go beyond simply matching a stations style to a depot, and allow more complex constructions while still appearing to be one large maintanance shop. I will give more indepth examples of this in my following post. This project allows this complexity by introducing station tiles which can occlude other tiles by using their "height" to simulate distant roof surfaces. This allows junction and signal tiles to apear enclosed, meaning that small yards can be built to look like monolitioc buildings. With shunting or tight corners, trains can access one depot from various tracks, all of which appear to be part of the depot themselves.
Attachment:
File comment: These tiles use their "height" to occlude those behind them, causing those tiles to appear enclosed
special shed tiles.PNG [ 6.63 KiB | Viewed 13082 times ]
Please read the following post(s) for a demonstration of how this will work.