HEQS release thread:
viewtopic.php?f=67&t=37912&p=698294
Original Post

(June 2008)
I am a big fan of special vehicles: trucks, tractors and heavy equipment for construction, mining, forestry, farm and other off-road use.
This equipment would fit well into a niche in TT/OTTD: feeder service. I extensively build feeder services to consolidate the output from several industries to a rail station, and I figure I'm not alone in playing that way. The benefits of feeder service are:
Improved station ratings and industry production due to regular small pickups by RVs
Can use longer trains which are more efficient on track usage and running cost
More realistic (for those who play that way)
More vehicle/route optimisation (for those who play that way)
More fun/eye candy (for those who play that way).
We have some great road vehicle (RV) sets already for highway use: GRTVS, a partially complete UK (HOVS) set, and George's Long Vehicles. It would be neat to have off-highway equipment to use as well.
I am proposing to create the following list, which would be relevant from about 1975 (older vehicles could be suggested for earlier in the game):
Okay, so it's easy to make a wish list, how about putting my money where my mouth is: a single view of an ADT.
Attachment: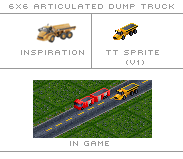 articulated-dump-truck_02.png [ 3.98 KiB | Viewed 6213 times ]
This is the first time I have drawn a TT graphic. I think it's ok, but is a bit too realistic - needs the colours softening. I am not familiar yet with how the TT pallette works and would be grateful for any advice (I do have Oskar's example pallete).
This truck would need to be articulated, but would work well with how the RV articulation functions in TT. I am
not
able to code GRF files, and I am a bit too busy coding in real life (python, html, css) to get my head into GRF coding! But I am prepared to draw (as far as my abilities take me), so if any coders want to lend a hand it would be greatly appreciated.
Other comments:
I wouldn't want the set to be huge or complex. It's not intended as a complete RV set. I would rather have something finished that is fun and useful than a long tracking table which becomes overwhelming (I'm sure some of you have faced that before)
The intention

is

to put some extra variety in the game, I would look to balance reality with gameplay. The vehicles would principally be realistic, but often not based on any specific model, more a blend of what's typical.
There's room for other suggestions - but they've got to be useful in the game. More farm tractors are an obvious choice. Of course everyone has their favourite, but I'd probably just blend a few together, some people get passionate about tractors, I don't want the set to become a homage to tractor history!
I'm drawing with realistic colours, but it would be very interesting to see how company colours could be applied - I'd prefer a grf parameter to randomisation, but either could work.
I'm not sure about dimensions. I have the bounding box from Purno's tutorial and have used that as the limits. Can sprites be bigger? George uses bigger sprites, but the side-effects can be a bit odd at times as he says in his tutorial.
To be really useful, this grf may depend on OTTD's increased vehicle limit. I've had the idea for a long time, but my understanding was that RV IDs were very limited. Now that limit is being removed (for OTTD) it looks worth putting some time into this (sorry to Patch players in advance I guess).
In the long term, it would be neat to add another class of roads to the game: off-road trails. These would:
Be

very

cheap to build and it would be possible to build them on almost any combination of slopes within the limits of the tile engine (advice?)
Only allow off-highway vehicles (which could also travel on-highway, similar but slightly different to the way RVs cannot travel on grass tram tracks).
Would be dirt in temperate and desert; ice-roads above the snow line in arctic.
However a new road type is
not
necessary for this set to work, and it's extra complication that can be ignored for now - if there were good grf sets that could use such a feature, perhaps devs might consider it?
cheers,
Andy