Made a variety of signals.
Attachment: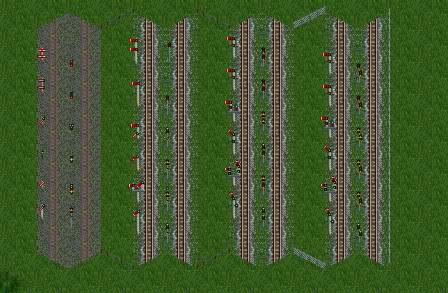 Signals.png [ 31.41 KiB | Viewed 1148 times ]
The signals listed from bottom to top
:
Block
Entry
Exit
Combo
Path
One Way Path
The far left:
These are Yard/Station Signals. Known as Siding, Wrong Road, and Shunting Signals. Except Block Signal the rest are Dwarf Signals. All are operated from a Signal Box or Ground Frame.
The next 3 are all "Main Line Running Signals"
2nd from Left: All operated from a Signal Box. The Semaphore are Lower Quadrant Signals and the Lights are "Single Light Colour Lights Signals".
3rd from Left: The Semaphore are Upper Quadrant and the lights are "Double Light Colour Light Signals".
The Block Signal is a automatic Signal (I just realised I should have put a sign at the base of this signal .. the sign would read "If signal is at stop, wait 1 minutes and proceed with caution being prepared to stop short of any obstruction" . will fix that when get chance). The rest of the Semaphores are controlled from a Signal Box. The colour lights are also controlled from a signal box.
Last on right: Signals same as above except the Colour Light Signals are all Automatic Signals. These operate automatically or controlled from a remote location complex.
Some signals have Blue near the base .. the blue suppose to represent a Telephone. When signal is at stop the driver after 1 minute would use the phone to contact the signal box to find out why the delay.
Just a little left to do to finish the signals.
Need to make a Automatic set of "Single Light Colour Lights Signals" and "Upper Quadrants". Automatic Signals can be found at Interlocking and are usually set to operate automatically for main line running. And when a train needs enter a siding or onto another track they then can be controlled manually from a signal box, a remote location, or a ground frame.
Could be Friday before I can do any more as next 2 days have some travelling to do.
Also all the photos I have taken of Signals I took from the front, I don't have any with side and back views of signals, so plan to go get some photos when get chance.
I'll wait till I finish the signals before uploading next game file.
Cheers