STD wrote:
I have the following suggestions for further development of this set

:
1. One-way trolleybus wires. 2. One-way tram tracks.
What do you think of these ideas? How difficult is it to implement this task for OpenTTD? Did you have a discussion on this issue? What did you come to in the end? After all, one-way contact wires for trolleybuses, one-way tram tracks with wires and without wires exist in real life. If it were all in the game now, there could be more realistic roads in the cities, including one-way rings for trams and trolleybuses. I think a lot of players dream about it

.
I have experimented with one-way tram tracks a bit. Concerning the graphics this is a no-brainer and was easy to do:
Attachment: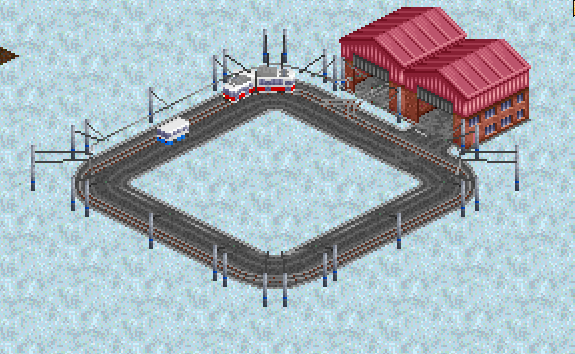 one way tram track.png [ 32.95 KiB | Viewed 1126 times ]
However, there is no way to forbid trams running on the 'wrong' direction where there are no tram tracks, and you would need 2 tram types (left and right) to lay them correctly.
... which is why I abandoned the idea ...
But I can share the grf if someone would want to use or build up on it ...