kamnet wrote:
GarryG wrote:
I put the mine shaft tower in the non-track tiles so it joins with the rest where coal is loaded into coal hoppers so all can be used together. I presume it brings coal to the building and possibly onto conveyor belts in the building and from there to the wagons.
I think it looks OK as part of the station. Trying to integrate it into an industry and then trying to get the industry to integrate w/ the station (especially if you're not using both) would just look weird, IMO. It would improve the look of non-FIRS mining industries.
I totally agree with Kamnet.
Furthermore I dont see anything wrong with (the same looking) graphics being available in multiple ways, so as Industry, Object and/or Station.
But others may disagree, however as a player you still have the choice to not use them and I think having that choice is still better then limiting the creativity a GRF-developer by saying that certain graphics should only be available in certain "proper" sets...
So, in short, dont like it? Dont use it..
On-topic:
I think the building is placed incorrectly on the tile. It is now at the closest edge of the tile, while the tower is in the middle. It looks to me that in the original graphics the tower probably also reaches the ground at the closest edge of the tile.
As in this case the tower is in the middle, I think the the "mouth"/opening of the building should also be in the center of the tile...
What I do agree with with Michael is that to me also the tower looks more like a Mine shaft tower rather than some sort of loader, because of its height.
If you move it more to the right (so closer to the building) and then lower it, you will still keep the same angle for the conveyor-belt, but it will look less like a mineshaft tower and it will look more like the "real" thing.
Looking at one of the pictures you posted, you can see that the hight of the tower above the roof is roughly the same (or even a bitt less) hight as the structure under it, right now its a lot higher than the structure under it.
See this picture, the green arrow is shorter than the red one:
Attachment: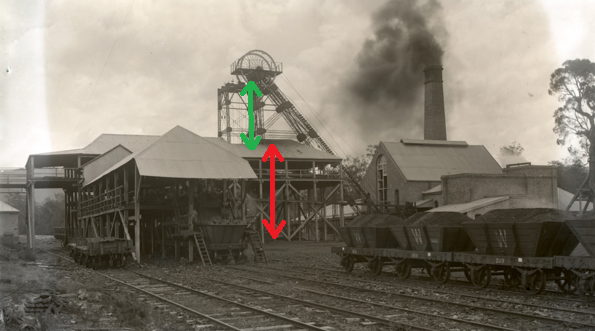 Example356.png [ 282.09 KiB | Viewed 678 times ]
_________________
Projects: viewtopic.php?f=26&t=57266
Screenshots: viewtopic.php?f=47&t=56959
Winner of the following screenshot competitions:
sep 2012
,
jan 2013
,
apr 2013
,
aug 2013
,
mar 2014
,
mar 2016
All my work is released under GPL-license (either V2 or V3), if not clearly stated otherwise.