Looking at ideas of changing many of the AuzObject_Rail objects I done.
Looking at the Livestock Off ramps.
Attachment:

ObjectswithoutFakeRails.png [ 31.12 KiB | Viewed 1607 times ]
It does not have any Fake railway lines, but you can add them if like from the AuzObjects_FakeRailwayLines set or you can add actually railway lines and platforms to allow your trains to stop there.
But when I made these Loading Banks, Wool Dumps and Goods Sheds.
Attachment: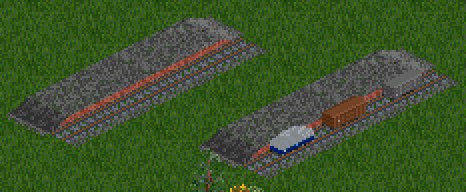 ObjectLoadingBanks.png [ 23.11 KiB | Viewed 1607 times ]
I made 2 sets one with fake rails and other with fake wagons.
I going to change all these so they will work the same as the Livestock Off Ramps. Make these objects and you can add the fake rails, fake wagons or use actual railway lines from game.
This will reduce many of the objects clatter and make them like a jigsaw puzzle where you can make them how you wish.
Also intend to redesign the Goods Sheds so you can either have a small single shed or can join them make them longer if like.
Probably take me a week or 2 to do all this .. cheers