Okay, so we have some Heavy Equipment, but how do we move it around?
Attachment: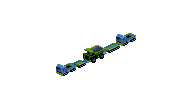 low_loader_09.png [ 761 Bytes | Viewed 3518 times ]

This would be a 5-part articulated vehicle, inspired by comments in
this trams/light rail thread
Load would be classed as goods. It would be moved from factories to anything that accepts goods. I make no promises about how that works with ECS, future industry sets etc - I just think it looks neat!
(With more apologies to Zephryis for pillaging graphics).
Teaser: convoi exceptionelle! A tailback of loaded steel trucks crawls up the highway behind a big green monster, bound for the ore mines. Soon there'll be more raw materials for steel, more traffic, more tailbacks. Ah, progress

Attachment:
loader_teaser.png [ 12.21 KiB | Viewed 3432 times ]