In 2051 Plans were drawn up for a High Speed Line between Carthill and the New City of London. It Was to use Imported Train Designs from Europe. However, in 2065 the company saw the oppurtunity to make more money from the Line by adding a Branch off to Bradingtown. By 2066 this new Line was operational. In This Shot we see the 2 Bradingtown Trains pass each other.
Attachment: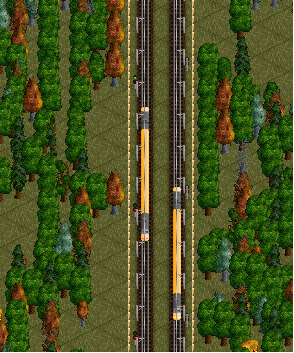 Amtrak, HS1.png [ 118.23 KiB | Viewed 1316 times ]
The full list of Trains that run either partially or Fully on the Line is as Follows:
2 TGV Thalys (Carthill - London Semi - Fast)
2 TGV La Poste (Carthill - London Post)
2 ICM (Carthill - Confingpool Regional Station(Regional Lines))
2 TGV Duplex (Carthill - London Stopper)
2 ERT 500 (Carthill - Kenttown (Regional Lines))
2 ICE 3 (Carthill - London Express)
2 TGV Atlantique (Carthill - Bradingtown Express)
There are now talks for a High Speed 2 in the Board.
_________________
Cameron
Together, We Battle! Together, We are One! Together, We are Faster! Together, We Give our All! Together, We all lead! Together, we keep our cool! Together, We create Magic! Together, We are Stronger! Superbia in Proelia - Pride in Battle
5,000th Post
22/01/13 at 9:56 pm
POTM August 2012 Joint Winner
----
My 5,000th Post