Hyronymus wrote:
So where does this topic go now?
Compromise? Refine your ideas? Look at other means of improvement? Surely you don't expect everyone to share your view of what's wrong, or agree that your proposals are an improvement on what we have now?

But there's nothing wrong with a bit of brainstorming.

Going back to your first post:
Hyronymus wrote:
Lastly, in the parameter window for NewGRF's you see a more detailed description below. I think it's good to provide such a more detailed description below the advanced options list too.
This is a good idea. I've not looked at it in any depth, but there are surely some settings that would benefit from having a more detailed description.
What about some of the other things that have been mentioned? Increasing the default width of the window is a simple fix that would address one of your concerns - it's a shame no one has commented on my FlySpray proposal. Or perhaps there are other options to resolve this, such as wrapping text?
Then there's the idea of using <> buttons for everything, and getting rid of the red/green on/off buttons. You said yourself that this would "greatly improve consistancy" (another of your concerns), and it could perhaps improve things for the colourblind as well. For example, this screenshot was taken using Color Oracle to simulate one of the more common types of colourblindness:
Attachment: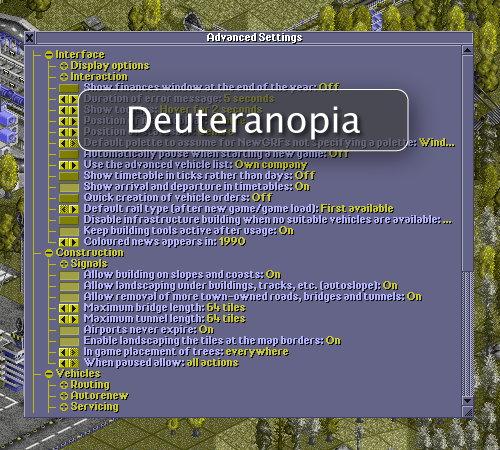 deuteranopia.png [ 121.54 KiB | Viewed 794 times ]
Also, perhaps Yes/No would be better than On/Off, for the English translations at least? And perhaps there are some options that we don't really need and would be better off without?
Something else that might be nice is an option to save or cancel your changes to the advanced settings, like we already have in the "Difficulty" window.